As I mentioned right

here

a few weeks ago, Denice Stewart's first book has been released. Where Would Cows Hide?
is a tweener adventure story where the fun never ends. The author, who just happens to be my daughter-in-law, is in the beginning of a month-long Blog Tour.

Just so you know, I'm a little cautious about sending all you lovely people to the different sites to read her interviews because . . . well, she just might spill some of the family secrets or answer one of those questions that interviewers love to ask like: What is the worst writing advice you ever received? And then, Denice might say something about her mother-in-law said . . . (fill in the blank here) . . .And . . . Well, you get the picture.
I'm kidding, of course. I've read a couple of her interviews so far, and you know, I couldn't be more proud of that girl. She's really got her act together (and no, it's not an act) and has some great advice and humorous stories to share.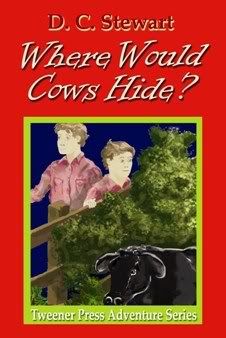 So, right now, why don't you hop over to some of these blogs and find out for yourself.
And to Denice—You go girl. You've made the Stewart family proud!
Where Would Cows Hide? BLOG TOUR:

Follow along as D.C. reveals how she got inspired to write this story, some of her favorite things, and how she manages to write with her own twin terrors and sweet daughter underfoot.You'll also find reviews, fun banners, and more cool stuff along the way. Join us for the WHERE WOULD COWS HIDE? blog tour at these blogs:

April 15, 2008 : Lacy Williams at
http://www.novelinspirations.com
April 16, 2008 : Donna Moore at
http://writebyfaith.blogspot.com
April 17, 2008 : Carolyn Strawder at
http://www.quiettimewithcarolyn.com/Serenity
April 18, 2008 : Margaret Daley at
http://margaretdaley.blogspot.com/
April 19, 2008 : Debbie Archer at
http://debbiearcher.blogspot.com
April 20, 2008 : Brittanie Terrell at
http://abookloverforever.blogspot.com
April 21, 2008 : Gina Conroy at
http://portraitofawriter.ginaconroy.com
http://ginawrites.ginaconroy.com
http://writerinterrupted.com
April 22, 2008 : Justin Boyer at
http://fantastyfreak.blogspot.com
April 23, 2008 : Charlotte Schofield at
http://burnforgod.blogspot.com/
April 24, 2008 : LaShaunda Hoffman at
http://lashaunda.blogspot.com
http://blog.myspace.com/lchoffman
April 25, 2008 : Jenny at
http://ausjenny.blogspot.com/
April 26, 2008 : Laura Williams at
http://laurawilliamsmusings.blogspot.com/
April 27, 2008 : Margaret Chind at
http://cherryblossommj.blogspot.com
April 28, 2008 : Antionette V. Lee at
http://tonivlee.blogspot.com
April 29, 2008 : Myra Johnson at
http://myra.typepad.com/randomly_/
April 30, 2008 : Laura Hilton at
http://www.shoutlife.com/laurahilton
http://www.myspace.com/lightboat
http://lighthouse-academy.blogspot.com/
May 1, 2008 : Leslie Sowell at
http://footprintsinthesand.us/blog
May 2, 2008 : Kathy Brasby at
http://sunballo.blogspot.com
May 3, 2008 : Camy Tang at
http://www.camys-loft.blogspot.com/
May 4, 2008 : Karla Cook at
http://ramblinroadstoeverywhere.blogspot.com
May 5, 2008 : Carla Stewart at
http://www.carlastewart.blogspot.com/
May 6, 2008 : Pamela Morrison at
http://daysongreflections.com
May 7, 2008 : Ashley at
http://www.homeschoolblogger.com/01charger
May 8, 2008 : Kim Ford at
http://berlysue.blogspot.com
May 9, 2008 : Christa Allen at
http://www.cballan.wordpress.com/
May 10, 2008 : Heather Thomas at
http://misadventuresofthedynamicuno.blogspot.com
May 11, 2008 : Deena Peterson at
http://deenasbooks.blogspot.com/
May 12, 2008 : Michelle Kralicek at
http://michellesgreatblogs.blogspot.com/
May 13, 2008 : Leah Sande at
http://ponderingsfrommyheart.blogspot.com/
May 14, 2008 : Rachelle Arlin Credo at
http://zyphe.blogspot.com
May 15, 2008 : Amy Lathrop at
http://sprightly-amyanne.blogspot.com
May 16, 2008 : Janna Ryan at
http://cornhuskeracademy.blogspot.com
May 17, 2008 : Kristy Walker at
http://ineedtoread.blogspot.com/
May 18, 2008 : Amy Riley at
http://thefriendlybooknook.com
May 19, 2008 : Mimi Baker at
http://www.wovenbywords.blogspot.com
May 20, 2008 : Kathie Nolasco at
http://takingastroll.blogspot.com
May 21, 2008 : Julia Graham at
http://www.reviewzbyjewelz.blogspot.com